New Publication: Disentangling the impact of point defect density and carrier localization
Green LEDs remain low efficiency compared with their blue counterparts, but are required for future display technology. Power-dependent measurements show that current- rather than defect-management is crucial to improving efficiency.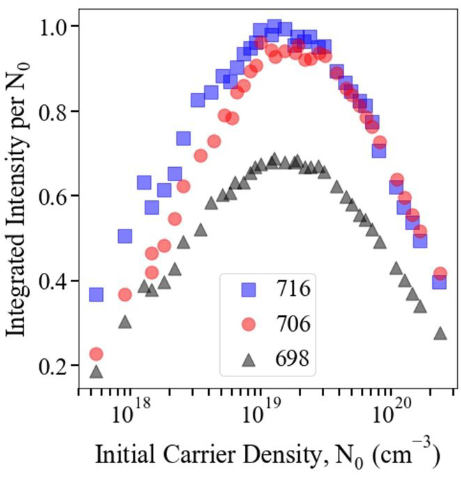 Group postdoc Rachel Barrett has had a paper published in ACS Photonics. The work, entitled "Disentangling the impact of point defect density and carrier localisation enhanced Auger recombination on efficiency droop in (In,Ga)N/GaN quantum wells" describes the use of power-dependent excitation spectroscopy and mapping to understand carrier dynamics in industrially relevant light-emission material. The work is a collaboration between Manchester Physics, Cambridge Materials, and Cork Physics departments.
It has long been known that while GaN-based LEDs can have excellent efficiency in the blue, their performance in the green suffers. In this work, a range of loss mechanisms are explored for this material, and it is found that defect density is not crucial to determining "droop" - where efficiency drops with increasing current density. This points towards current management as a route to high-efficiency LEDs in the green.
Reference: "Disentangling the impact of point defect density and carrier localisation enhanced Auger recombination on efficiency droop in (In,Ga)N/GaN quantum wells", Barrett et al. , ACS Photonics ASAP