New Paper: Visualizing the role of photoinduced ion migration on photoluminescence in halide perovskite grains​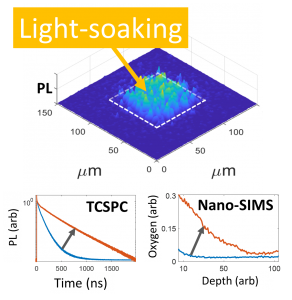 Group student Hoyeon has had a paper accepted in the RSC Journal of Materials Chemistry C, studying the photo-brightening effect in perovskite grains using correlated optical and chemical mapping. In collaboration with the Flavell group and the NanoSIMS group at Manchester, this study linked luminescence lifetime and emission energies to local changes in oxygen and iodine density close to the surface of methyammonium lead iodide grains; a prototypical next-generation photovoltaic material.
This new study unambiguously links the emission efficiency improvement under illumination – the so-called photo-brightening effect – to light-induced migration of iodine into the bulk of the crystal and an increase in oxygen levels close to the surface of the grains. By mapping the emission efficiency and chemical levels on the sub-micron scale, we find that grain size has a decreasing role with light-soaking.
Reference: "Visualizing the role of photoinduced ion migration on photoluminescence in halide perovskite grains​", J. Mater. Chem. C (2020), DOI:10.1039/d0tc01441a